Therapist in Rockland County, NY
Anxiety Counseling For Adults
Welcome to The Counseling Perch, a private practice with a specialized focus on anxiety counseling, therapy, and women's mental health.
Being preoccupied with worries and anxiety leaves you feeling exhausted, tense, and uneasy. Juggling everyday responsibilities and trying to keep it all together, you find yourself in a cycle of anxiety that can wind you into knots.
Sometimes the worries are manageable and other times they are persistent, especially when stress arises, making things worse. Does this sound familiar?
Dealing with overwhelm and stress may be familiar but it does not have to rule your day.
Feeling more relaxed, settled and grounded is important to overall wellbeing. But, it can feel very strange if you are a driven person used to handling the many demands of life. You may manage school, work and family life despite the high pressure and even achieve pretty good results. As a result, you may begin to think that feeling anxious is par for the course.
In fact, not all anxiety leads to discomfort. But, if you are not feeling your best, are worrying in a way that makes you tired, stuck or constantly overthinking, you have come to the right place.
Meet Brenda Delmonte, LMHC a therapist in Rockland County and New City, NY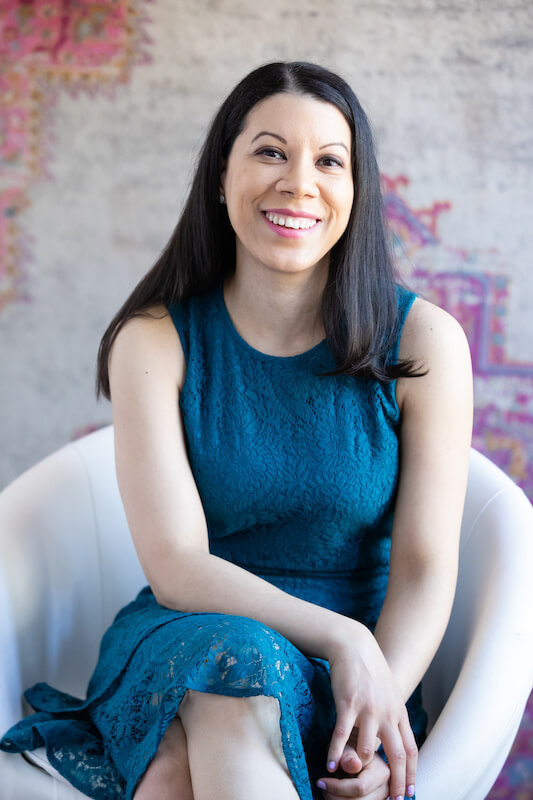 Hi! My name is Brenda Delmonte. I provide counseling for young adult and adult women struggling with anxiety and stress. Whether you are recently curious about anxiety or have been experiencing it for awhile, you may be searching for relief and a way to manage it.
Women's mental health is unique in that there are various pressures and demands that contribute to stress. From relationships, family, and career to dealing with predictable and unpredictable life's transitions, it can be a lot.
I get it! I am passionate about helping women find ways to take care of themselves as much as they care for those around them.
In therapy, I work collaboratively with you to regain a sense of calm and move forward in the life you want.
Whether that means getting unstuck, reducing overthinking, increasing self-confidence, feeling more relaxed and grounded, we do it together. Your growth possibilities are endless and you don't have to do it alone!
The decision to start therapy is an essential step toward the process of feeling better. If you are here, you are already on your way!
Schedule a complimentary consultation to get started. I would love to hear from you!
Therapy With a Therapist in Rockland County, NY Can Help
Anxiety is a very common issue that many people face and and accounts for a great deal of emotional pain and suffering. Therapy can help you gain a sense of calm and balance.
Anxiety symptoms are experienced differently by each individual person. Working with a therapist in Rockland County, NY is a great place to start making sense of how anxiety is specifically affecting you.
Therapy provides an opportunity to take a step back, observe and understand patterns of thinking, behaviors and attitudes that may contribute to stress and anxiety. Knowing this information can then help you decide what changes, if any, can lead to a happier, more peaceful you.
Anxiety Is Treatable
You do not have to suffer alone. In fact, many people can increase their quality of life once they begin the therapy process. You can learn ways to regain a sense of balance and control of your symptoms.
Services
Social Anxiety
Many people with social anxiety experience intense fear and discomfort related to social interactions. Feeling embarrassed, fear of being judged, or criticized by others makes it very difficult to fully enjoy social moments. Nervousness to speak up in front of others, finding the right words to say and making friends are common concerns. Counseling can help to explore and understand the ways social anxiety is affecting your life. Therapy offers an opportunity to learn and practice new skills that you can directly apply in your life. Build confidence and reduce stress around socializing. Learn more about therapy for social anxiety.
Perfectionism
Not feeling good enough? Feeling like an imposter? Many people with perfectionism feel stuck in a battle of self-criticism and striving for perfection and self-improvement. Trying to meet high expectations of themselves or the imposed expectations of others can lead to stress. Fear of failure, indecisiveness, people-pleasing, and fear of negative evaluation are a few signs of perfectionism. Learning to set realistic goals and healthy boundaries and reducing shame can lead to a path of healing. Learn more about perfectionism therapy.
Generalized Anxiety
Worries arise from a variety of sources and everyday events. Frequent worrying about the future, family, health, work, and finances are examples of common concerns. It is often difficult to stop worrying on your own. In therapy, you will learn to understand anxiety and how to cultivate healthy habits and coping strategies to calm the mind. Learn more about therapy for generalized anxiety.
Young Adults
Adulting is hard! You look around and wonder how everyone else magically appears to have it all together. Meanwhile you are still trying to figure it all out. Eating healthy, exercising, holding down a job. Sure! You may already be doing a lot of things but still feel worried that you might be missing something. You want to have more clarity about the direction of your life and make good decisions for yourself. Working with a therapist is one way to get a jump start on building the life you want. Learn more about therapy for young adults.
Pregnancy and Postpartum
Adding a new bundle of joy to your family? Having a new baby, is no small feat! Adjusting to motherhood takes time. Every pregnancy is different and is also experienced differently as the circumstances of your life change. A great number of women experience anxiety and stress during and after pregnancy. Whether you are just starting your family planning, are currently pregnant, or in the postpartum stage, there is support. Counseling is tailored to meet your specific circumstances and concerns. Learn more about therapy for new moms.
Therapy for Anxiety in New City, NY & throughout New York State via Online
Online Counseling
Available to New York State Residents
Receive help for anxiety while staying in the comfort of your own home! In addition to being a therapist in Rockland County, NY and New City, NY, I also offer counseling services for residents of New York State.
Online therapy or telehealth has been found to be just as effective as in person therapy. For many people, starting therapy is a difficult decision. The commute to and from appointments can be hard to fit in to your schedule.
Telehealth also eliminates this barrier to care. All you need is your computer, a strong internet connection, and a private location from which to engage in counseling.
Ready to Get Started with Anxiety Counseling? Schedule an Appointment Today.